At this year's Passenger Experience Conference in Hamburg, the program tracks struck a familiar tone, but many of the discussions I had felt fresh and new. Across the board, I'm hearing airlines adopt a new "business language" that signals a willingness to change the passenger experience from within – they're using martech buzzwords like artificial intelligence, machine learning, predictive analytics, and personalization. But using the right words is one thing, taking the right actions is another, and as I left the conference I found myself wondering whether airlines are truly prepared to take the next steps.
Travel technology is now at a point where airlines can do virtually anything with the right partners and platforms, yet in many ways legacy systems – and legacy thinking – has limited their ability to gain actionable insights into their passengers' behaviors and motivations. If airlines don't know what their customers are doing or feeling (or aren't acting on that data), how can they remove travel stressors like hunger or boredom and positively change passenger experience?
The answer is they can't.
Take in-flight food and beverage service as an example. Catering vendors still control this central onboard experience by virtue of the trolley, but a caterer doesn't have the keys to all the passenger data that the airline does. Airlines can regain this retail program by integrating the onboard experience into a larger selling window across the day of travel. But to do so, they need the data and retail systems capability to personalize options, make recommendations and predictions, and create a seamless path to purchase.
Big Steps AND Gradual Change for Airline Technology
All this may sound like a daunting set of asks for current systems – and I suspect that sentiment has created a lot of unintentional inertia across the industry. Airlines imagine they need to "boil the ocean," so to speak – that the sheer scope of upgrades needed to improve the passenger experience excludes making even gradual or incremental changes. But other global brands like Starbucks or McDonald's didn't transform their retail systems overnight; they were phased in alongside legacy systems, calibrated and tweaked incrementally, and addressed certain processes and customer pain points before others. For airlines, passenger experience is a good place to start, because it impacts the customer most directly and can leverage their mobile devices as hardware.
"Boiling the Ocean" Isn't a Requirement
Airlines already have more passenger data than they could ever use. They don't have to "boil the ocean" to put their data to use by spending time trying to connect silos such as CRM, PSS, loyalty, booking, and other systems. This can be hard and takes time while useful data is just sitting there and ready to use.
Airlines can get started with the basics; they know where passengers are going to be during their day of journey and they know their biggest pain points. These two elements alone can be huge for personalization. Over time, airlines can work to connect everything and build robust plans from their data, but starting off with the basics can vastly improve passenger experience.
JetBlue was a standout at the conference for its digital innovation and also for working with technology SMEs and local partners (craft brewers, artisanal cheesemakers) to build solutions that benefit the end user – a model approach to passenger experience that other airlines can follow (more on JetBlue below).
Takeaways From the 2018 Passenger Experience Conference
So that was the big, overarching takeaway for me.
As for the conference itself, I was joined by Gary Edwards, PhD and decision scientist who's been working with the Guestlogix team over the past 9 months as we refined our retail analytics and passenger facing solutions, for a presentation called The Untapped Goldmine: Transforming Passenger Data into Personalised Airline Commerce. We explored how airlines can transition commerce from a transactional experience driven by point-of-sale hardware, into an enterprise driven by retail analytics, data and a rich understanding of passengers' behaviors and needs.
In our presentation, we tried to do more than simply rehash what every airline in the room already knew. We wanted to help airlines understand the psychology of passenger experience and how that plays into revenue strategies.
Judging by the reception our presentation received and the follow-up discussions we had with airlines, it's clear that carriers are interested in technology solutions geared specifically toward passengers and the passenger experience. At our booth, many airlines stopped by for a fully functional demo of the airline commerce platform, and we had an airline partner with us supporting one of their first "go lives" with the platform. Other airlines showed a lot of interest in POS receipt printing (and we have the receipts to prove it!). And the footballer Steve Gerrard even dropped by and snapped a photo with some of our team.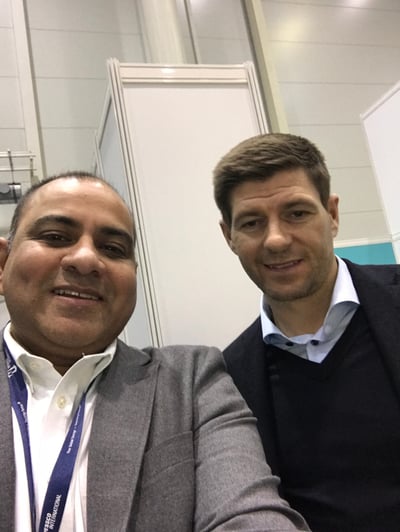 JetBlue on Partnering
On the supporting panel, JetBlue talked about its willingness to work with outside partners to fulfill specific pieces of the passenger experience. By harnessing passenger data, JetBlue is able to understand customers on macro and micro levels, comparing sales across flights, routes, regions and other segments. JetBlue can then use those data insights for more personalized and authentic experiences (organic wines from Trinity Oaks, California, craft brews from Boston) and build loyal connections with local communities. This is becoming more useful as companies like ViaSat make inflight Wi-Fi more accessible and passengers look to airlines for a full retail experience before, during and after the flight.
Opening Up the Inflight Marketplace with airfree
Airfree stood out for taking on the duty-free market and using SaaS technology to give passengers a more seamless inflight e/mcommerce experience, connecting passengers digitally with duty-free retailers and other travel merchants. It's only a matter of time before more passengers are shopping inflight and picking up their merchandise at the gate, but this will take more data and systems integration between airlines, airports and retailers. As airfree and similar companies get close to releasing their product to the market, airlines need to be thinking about these opportunities for new ancillary revenue.
Guestlogix and the Future of Airline Commerce
For us, this conference reinforced the idea that airlines actually have it much easier than on-the-ground retailers when it comes to getting started. Retailers like Starbucks or H&M have no idea who's walking through their doors at any given time. They might be able to identify the shopper in the store through geotargeting if the customer is a loyalty program member who's opted in to receive on-premise messaging, and of course they can make generalizations in the aggregate using historical data. But airlines… airlines have so much actionable, anticipatable, real-time customer data, they could virtually eliminate all the guesswork from merchandising.
They know who their customers are, where they are going, in which seat they'll sit, what they like, when they'll leave – and when they're coming back. The trick is getting all of that data together and using it in the most effective and profitable way.
Today's connected traveler is expecting more control, comfort and choice. To provide this, airlines must implement new passenger experience solutions that empower passengers for self-service. It's not rocket science but relies heavily on data science. Onboard retail programs can be the perfect starting point for airlines to apply this approach to connect passenger self-service, inflight service and passenger data with larger opportunities for ancillary revenue before, during and after the flight.