Guestlogix Travel Commerce platform's new in-flight retail feature help address passenger and crew safety in-flight while increasing customer satisfaction and revenue.

Early on in the pandemic, airlines moved quickly to suspend most inflight service offerings in an effort to limit close interactions between passengers and crew. Sometimes to the point where passengers can't receive anything from crew- not even water.

As airlines now look to resume inflight services and buy-on-board, they are faced with a challenging question - how do you resume inflight service in a way that keeps both passenger and crew safety top of mind?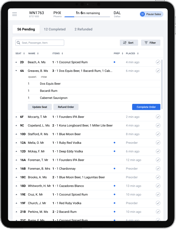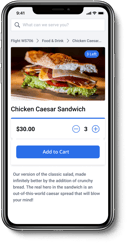 With our in-flight retail offering, passengers can order their inflight food and beverage, duty-free and other items from their own mobile devices without ever having to pull out their credit card or handle a POS device. Cabin crew get notified and can fulfill any orders safely and efficiently with full control over availability of inflight services.
For airlines this means the ability to resume inflight service while limiting the interactions between passengers and crew. Ultimately giving airlines a new way to maintain safety while improving passenger experience.


"The pandemic has forced airlines and providers to review how they work across a broad variety of passenger interaction points. With our history and experience in onboard retail, we believe we are uniquely positioned to help both airlines and passengers enjoy clean, safe, touch-free travel retail and significantly update in-flight operations to meet the new normal." Paul Bilham, Director, Global Customer
Contactless inflight functionality can be implemented very quickly, requiring no changes to your existing systems, minimal internal resources and almost zero training of cabin crew and other staff. It represents just one of several enhancements we've made to help meet the evolving needs of airlines and passengers in travel's new reality.
Our Travel Commerce Platform, airlines also have the ability to improve passenger experience and ancillary revenues beyond the cabin and throughout their customers' entire journey. The platform allows them to provide passengers with their own personalized digital travel assistant that anticipates their needs and recommends the information, products and services they'll need at every stage of their trip - from planning and travelling to inflight and in destinations.

Get in touch with Guestlogix to speak with one of our experts and arrange a product demo here.