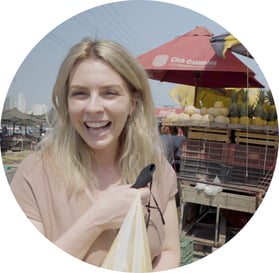 Hey travel fans! Rachel here.
I just returned from a wild adventure that took me to Colombia to capture on film the experience of traveling with the Guestlogix Digital Concierge. Stay tuned for that video — it's going to be incredible!

But this blog isn't about making a movie.
And it's not even about travel… not really.

It's about what's at stake in the travel industry, and the opportunity we have as technologists in a post-covid world, where the practical and cultural realities of travel have shifted.

Keep reading below… or, if you're after the tl;dr, just watch this:


Here at Guestlogix, we've been talking a lot about a fundamental problem in travel — it's one that existed before the pandemic, but like most things in our industry, the pandemic exacerbated the problem.

Here it is:

There's a profound mismatch between the ways that most passengers want to travel (spontaneously, freely, and responsively — but with perfectly reliable support) and the current digital products of most airlines, which skew heavily to the booking path.

We've found that most customers aren't prepared to make all of the purchases they actually want within the airline booking path. Whether it's purchasing a lounge pass or booking a cab to the hotel, most passengers just aren't thinking that far in advance and aren't in the mood to treat themselves — yet.

And we're not the only ones. At this week's Travelport Future of Travel Retail conference in Dubai, Rory Sutherland, Vice Chairman of Ogilvy UK noted that travel retail interfaces haven't been designed for consumer choice; rather, they're designed for business travellers who already know the answers to questions like "where are you going," "when are you going," and "how much do you want to pay".
"Airlines are a mixture of hardcore logistics combined with the fact that you are dealing with a bunch of completely irrational customers."
– Rory Sutherland, Vice Chairman, Ogilvy UK
I'd push this even further. Even when I'm flying for business and know the "where, when, and how" of my trip (which isn't even true all of the time!), I still don't know how I'm going to feel when I'm traveling, or how my coworkers are accustomed to traveling, or what other day-of-travel confounding factors will weigh on my decision-making.

And that means most airlines are missing out on a pretty key opportunity to connect with their customers where they're really wanted: across the entire end-to-end journey and at the specific moments when their services become relevant.
To illustrate, here's my example.
When I travel, I prefer to book my flights first, generally selecting an airline based on convenience of departure and arrival time, length of trip, price, and directness.

Only once have I ever purchased an ancillary along the booking path: an extra checked luggage when I moved home from Spain. I understand that I'm not typical in this behaviour and that plenty of passengers regularly purchase additional luggage, upgrade their seats, and more.

I just find I have so much decision fatigue that I'd rather deal with those questions later. There are points in the trip when I'm ready to treat myself — when I feel like I deserve to treat myself — and when I'm prepared to open my wallet to take away the stress. $20 for priority boarding at the airport doesn't feel like a big deal because I'm already waist-deep in the investment in my trip.

A day or two after booking my flights, I'll book my first hotel. I've generally already decided on where I'll stay before I book my flights, having previously spent hours bouncing between blogs, social media travel groups, and hospitality aggregators.

And before I leave for my trip, I usually also book an activity or two– just "the big one," the top experience that's calling me to my destination: the Sagrada Familia in Barcelona, Petra in Jordan, a great day at sea in Cartagena.

But beyond that top choice, I'd rather wait until I reach my destination before I figure out the rest. I want to feel out the place. I go for a walk, explore the shops, talk with strangers and listen to their recommendations. I might follow their tips or return to the hotel for a bit to do more research.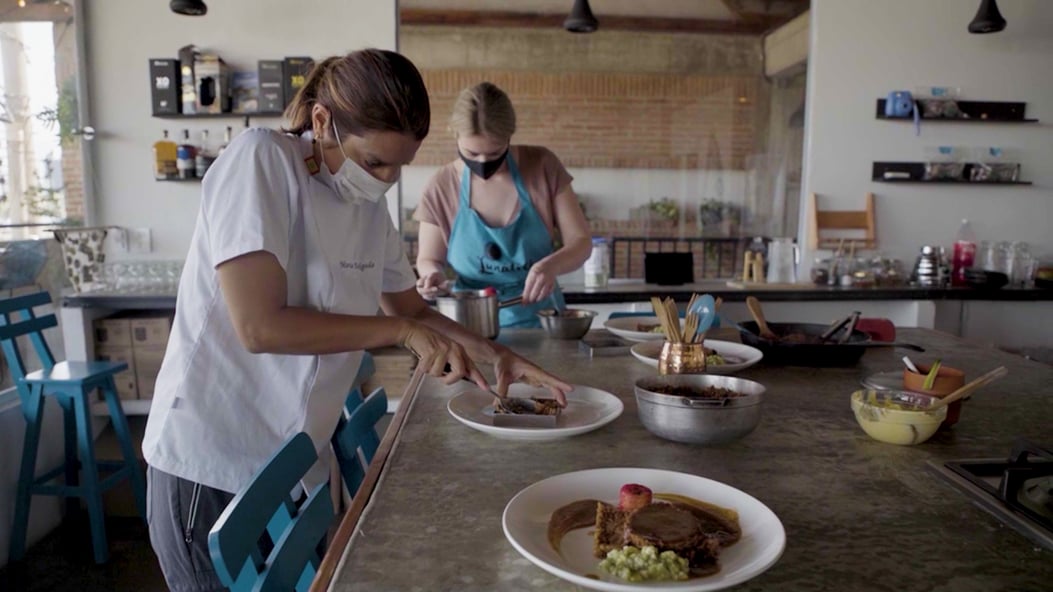 It's how I stumbled upon some of the most rewarding and exciting experiences of my trip to Colombia: like how Chef María Delgado (pictured above at her restaurant, Caffé Lunático) let us in on Cartagena's farm-to-table trend by helping us explore Mercado Bazurto and by sending us to Alquimico, an honest-to-goodness farm-to-table establishment. During the worst of the pandemic, Alquimico's owners cared for their staff (and their families!) by offering free room and board on their farm; today, that farm produces the fruit, herbs, honey, sugarcane, and specialty coffee that earns Alquimico a spot among the 50 best bars in the world.

Before the Digital Concierge, I needed to have conversations with locals and fellow travelers to discover these sorts of hidden gems. That's not necessarily a problem — I enjoyed this aspect of my trip even though I had the Digital Concierge at my fingertips. But it's not always possible because of linguistic barriers, cultural differences, and just plain old shyness. It can be hard to talk to someone new, especially when you're already reeling from the newness of an unfamiliar place.

But the problem is that without these conversations, I'd be bound to completing extensive research once I arrived at my destination. That's assuming that I wanted a trip with spontaneity and the opportunity to plan as I went — which I did.
And I'm not alone!
Even limiting the scope of our discussion to the in-destination leg of the trip, Google research indicates most travellers continue to research and seek out information even after completing a booking; 95% of us visit travel-related sites after booking and 85% of leisure travelers decide on activities only after having arrived at their destination.

Without the Digital Concierge, travelers like me looking to solve this need are left bouncing between Google searches, online travel agencies, social media groups, and more. And who wants to have their nose buried in a laptop or phone when they could be experiencing their destination? It's overwhelming.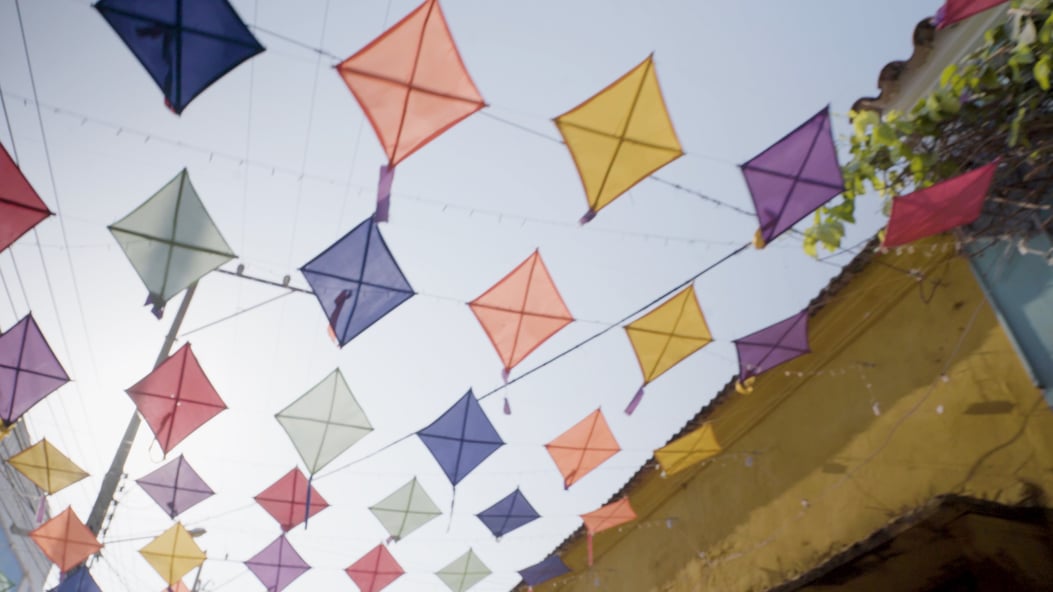 But there's another factor gnawing at would-be spontaneous travelers, too.
It's not just that traveling spontaneously is too difficult or inconvenient, it's that travelers like me worry.

Gnawing at me were way too many contingencies.

Would my phone's eSIM actually work when I landed so that I could call a trusted cab?
Would my hotel be safe?
What would I do if my flight was delayed?
What if an excursion got canceled?
Would I spontaneously forget every word of Spanish I know?
How the heck do you even buy priority boarding these days? MAN those video cameras were expensive, and we really didn't want them to end up halfway down the plane.
The Digital Concierge solved all of these problems.
It meant that I could travel freely and it responded to my changing circumstances, like when my afternoon plans in Bogotá got rained out. It introduced me to people and places I never would have discovered on my own. And I can honestly say that I loved every experience it recommended, from a taxi driver who let us in on Cartagena's best beaches to our locally-led day in Barranquilla's mangroves to kicking back in Avianca's Bogotá lounge.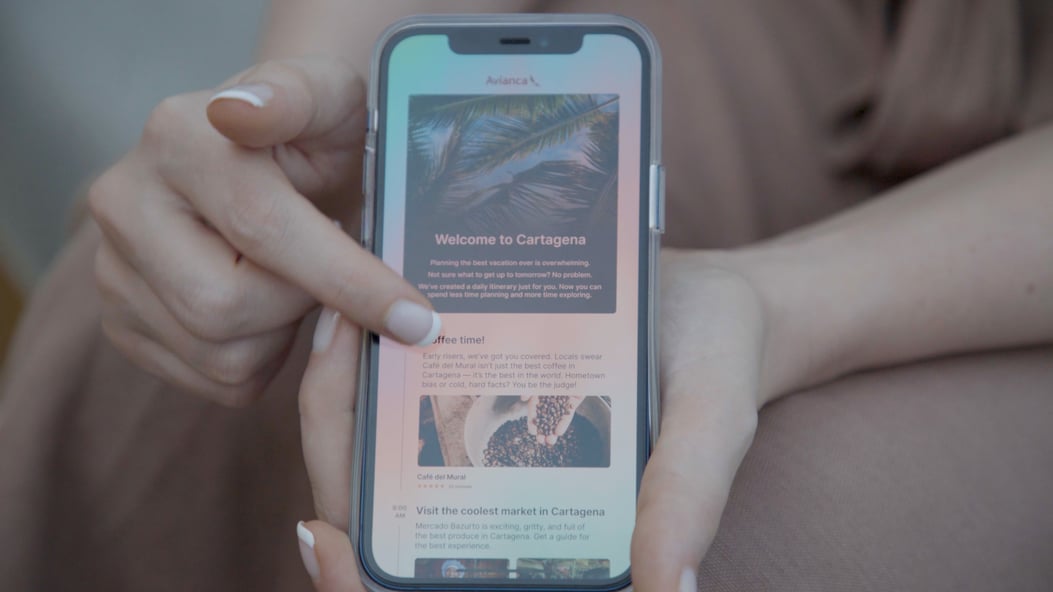 It redefined and expanded what an end-to-end travel experience should mean.

It's not just that the Digital Concierge accommodated the way I actually prefer to travel by letting me book on-the-fly...
It also changed the way that I travel.
We did so many things that I never would have done on any other trip: as we traveled, the Digital Concierge actively responded to what we needed and surfaced those recommendations. That influenced where we went, what we bought, who we bought it from, and how confident and supported we felt.

No more hangry Rachel, hemming and hawing over where to eat dinner.

No more aching feet, waiting for way too long to board a delayed jet.

No more feelings of regret or confusion, wondering where in the world to buy the ancillaries we needed at the last minute.

Improving travel doesn't just mean more destinations or more luxury: the Digital Concierge is demonstrating an unprecedented improvement in the ease, dynamism, and novelty of our journeys.

And that's really, really exciting.
Until next time ✌️

- Rachel