Long Beach, CA. September 26, 2017 - Guestlogix, the global provider of airline commerce technology and a pioneer in onboard retailing and ancillary revenue generation, is unveiling its new airline commerce platform at the Airline Passenger Experience (APEX) EXPO from September 26-28. The platform is re-defining the passenger experience and helping airlines unleash the revenue potential of the empowered passenger throughout the entire trip.
Psychology experts have found that when people feel in control – even if it's only a feeling – they have less stress; leveraging this phenomenon can help airlines create more pleasant experiences for their customers. Guestlogix's airline commerce platform puts passengers in control of their own experience, with an intuitive passenger app where they can browse an onboard catalog, make purchases easily with multiple payment methods and currencies, and receive personalized, relevant offers based on past behavior and "people like me" personas.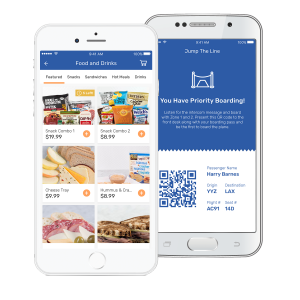 Guestlogix provides an open product catalog to include any inventory an airline wants to sell, not just food and drinks but also duty-free products, seat upgrades, status privileges, loyalty earn and burn, destination activities, and more. Passengers can easily pay to "jump the line," pre-order a meal for priority service, view special offers, track the status of their orders, see when a product is out of stock or an order is cancelled, rate flight service for better feedback, store payments, use points to pay and view past orders.
The passenger mobile app can operate as a standalone app or be integrated with an airline's existing branded app – which is a great strategy for airlines to make their own app instantly more valuable and attractive to passengers.
Guestlogix's passenger-empowering approach is intuitive and transformative, and delivers lasting value for all stakeholders – airlines, passengers, and flight attendants. And airlines gain the ability to become true retailers, not just providers of a commodity onboard service.
Guestlogix is helping airlines create a better passenger experience and higher ancillary revenues with an easy, smart and truly remarkable airline commerce platform – Guestlogix can help your airline unleash the revenue potential of the empowered passenger.
For more information visit www.guestlogix.com and if you are in Long Beach for APEX EXPO stop by the Guestlogix booth (1045) for a product demo.