On the surface this may seem like a ridiculous suggestion. Unless they were planning a trip to Paris, who would buy a tour to the Eiffel Tower while they're sitting in their home in San Francisco? Unless they're experiencing some sort of Brewster's MIllions type situation where they have to spend $30M in a month, it's unlikely that anyone would spend their money in this way. But here's the thing: there are tons of great activities, restaurants, tours, and experiences that exist in the very cities that travelers already live. So even though they're not traveling, they are still very much interested in many of the same experiences as their tourist counterparts.
Okay, but still, how can you sell tourist activities to someone who isn't a tourist?
The market doesn't lie
Or at least, Google doesn't. They claim there has been a 500% growth in mobile searches for "events/attractions" + "near me" between 2016 and 2018. This includes activities like:
Museums
Restaurants
Theater
Concerts
Kids activities
I mean, even if you've lived in San Francisco your whole life, you still might be very interested in the "best things to do" in your home city - which is coincidentally, also a mobile search term that has grown over 85% in that same 2-year period, according to Google. Or maybe you have friends or relatives coming to town and you need to find something to do with them. Not to beat the Google drum too loudly, but that same study revealed that searches similar to "kids fun near me" grew over 390% during that same 2-year period.
If this sounds like a trend, it should.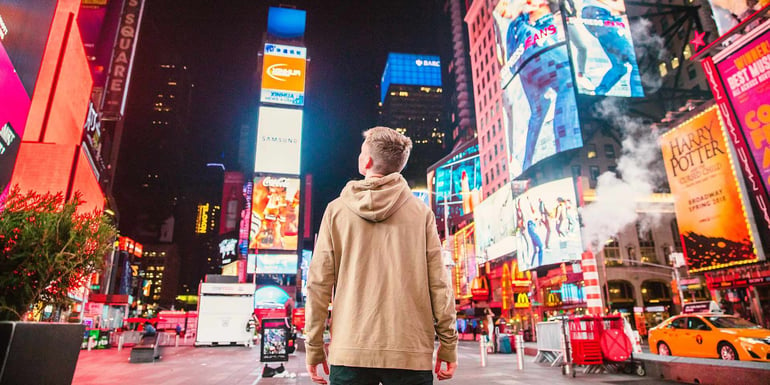 What this means for airlines
Well the first thing airlines should note is that Google is definitely on top of the mobile marketing trends in travel experience products. And airlines should definitely consider that if they're not taking advantage of this trend now, other technologies and services are going to step into that space pretty quickly (can you hear the ominous Google drums beating?) And once an airline has lost its customers to an alternative service that offers convenience and simplicity in researching, booking, and purchasing travel experiences, regaining that customer loyalty to an airline's own technology is going to be significantly more (if not impossibly) difficult.
In the end, airlines are missing out on a huge market if they're not selling destination experiences through their mobile technology. And this is double if they're missing out on origin cities, on top of destinations.
Using passenger data is the key
Airlines have all the data they need to make targeted suggestions to their passengers. They know the origin and destination of their travelers, which they can use to determine the most engaging and click-worthy travel activities. When cross-referencing this data along with a specific date, airlines can easily make relevant suggestions about events or activities like a haunted house tour in the month of October, or a suggestion of a romantic restaurant around Valentine's Day (marriage status data helps here too), or anything else that can be facilitated by technology like a digital concierge. Whether traveling or not, an airline's customer can be served up personalized content, which is another great reason for them to keep an airline's app on their phones - and not delete it in the first 30 days.
The Guestlogix platform uses machine learning to make highly personalized suggestions based upon a number of data points including location, personal preferences, and profiles. So you can see how airlines could leverage this technology to sell travel experiences, no matter where their passengers happen to be. And building a connection to passengers will encourage greater loyalty to the airline's app, in the long run. So maybe it's not so crazy to sell travel activities to people who aren't actually on, or going on vacation. Or what do you think?